
12-May-18, Nikkei Asian Review
7-Eleven Japan, operator of the country's biggest convenience store chain, will launch smartphone ordering for delivery in as little as two hours, the company announced.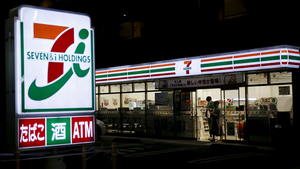 Image: Reuters / Nikkei Asian Review
The move marks a first for the convenience store sector in Japan, with 7-Eleven looking to capitalize on food home delivery demand as online rivals such as Amazon Japan make inroads into the highly competitive field.
The new service, 'Net Konbini' - using the commonly shortened form of "convenience store" in Japanese - plans to reach 7-Eleven's entire Japanese network of around 20,000 stores, following a soft launch in October 2017 at 25 stores in Hokkaido. It plans to expand the network to 1,000 stores in Hokkaido by Aug-19.