
Jul-19, The World Bank
Growth in emerging market economies is projected to pick up from a four-year low of 4.0% in 2019 to 4.6% in 2020-21, reflecting the waning impact of earlier financial pressures in some large economies. Growth in all regions has been weaker than expected. Activity in East Asia and South Asia remains relatively buoyant, while growth in other regions is expected to recover in 2020-21.
Growth in the East Asia region is projected to slow from 6.3% in 2018 to 5.9 percent in 2019 and 2020. In China, growth is expected to slow to 6.2% in 2019, with the deceleration in global trade. The rest of the region's growth is expected to moderate to 5.1 percent in 2019, before rebounding modestly to 5.2 percent in 2020 and 2021, as global trade stabilizes.
East Asia trade growth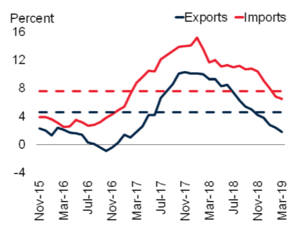 Image: The World Bank
Growth in Latin America is expected to be a subdued 1.7% in 2019, reflecting challenging conditions in several of the largest economies, and to build to 2.5% in 2020, supported by a pickup in private consumption. Argentina is projected to revert to positive growth in 2020, while in Brazil, growth will rise to 2.5% next year from 1.5% in 2019. Easing policy uncertainty in Mexico is expected to help support a moderate uptick in 2020, to 2%.
Latin America growth outlook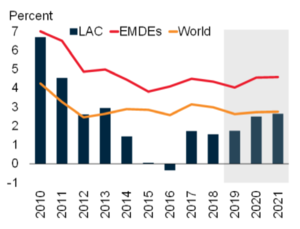 Image: The World Bank
Growth in the Middle East & North Africa is projected to rise to 3.2% in 2020. Capital investment in the GCC and higher growth in Iraq will contribute to oil exporters' 2.9% economic expansion in 2020. Among oil importing economies, increasing growth is predicated on policy reform progress and healthy tourism prospects.
MENA GDP growth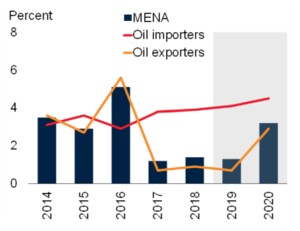 Image: The World Bank
In South Asia, growth is picking up to 7.0% in 2020 and 7.1% in 2021 with support from monetary and fiscal policy, lead by India, where growth is projected to accelerate to 7.5% in FY 2019/20. Pakistan's growth is expected to slow further to 2.7% in FY2019/20.
South Asia net remittance inflow growth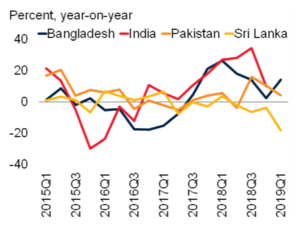 Image: The World Bank
In Sub-Saharan Africa, growth is expected to accelerate to 3.3% in 2020, predicated on improving investor sentiment toward some of the large economies and the recovery of oil production. In 2020, growth in South Africa, Angola, and Nigeria is anticipated to rise to 1.5%, 2.9%, and 2.2% respectively.
Sub-Saharan Africa GDP growth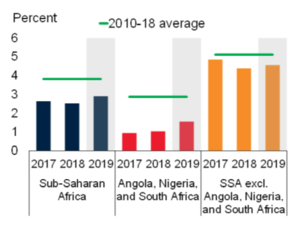 Image: The World Bank
In Eastern Europe & Central Asia growth is expected to firm to 2.7% in 2020 from a four-year low of 1.6% this year as Turkey recovers from an acute slowdown. Regional growth will be recovering to 2.7% in Eastern Europe and moderating to 4% in Central Asia in 2020. A deterioration in trade relations between the US and Europe, particularly with respect to auto tariffs, could be detrimental to the region.
Industrial production and PMI in Russia, Turkey and Poland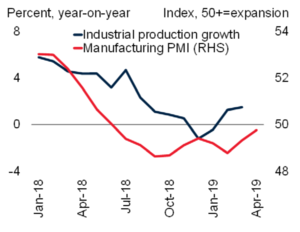 Image: The World Bank
---
Visit our regional practices: