Study concludes healthcare reforms in Latin America benefit the rich
 22-May-17, Global Health Intelligence
A study carried out on Argentina, Brazil, Colombia and Chile has concluded that most efforts of the health system concentrate on the higher income population while neglecting the needs of the lower income classes.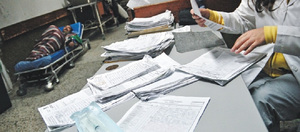 Image: Global Health Intelligence
A research study on access of medication in four Latin American countries was conducted by the National University of Colombia. The study found the consumption of high-cost drugs reduces the accessibility for a large majority of the population in the middle and lower income groups.
New medicines launched in the market come with high prices. This scenario forces health systems to prioritize and restrict their use to some patients.