
19-Jun-19, South China Morning Post
In China, with a population of about 1.4 billion, the stakes are high for health care to become one of the major applications for 5G mobile technology because the world's second biggest economy still must contend with an acute shortage of qualified doctors and nurses.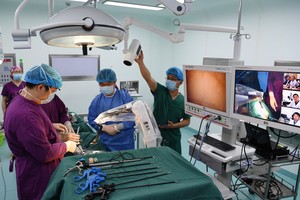 Image: Xinhua
Next-generation 5G mobile technology - which offers faster data rates, reduced latency, energy savings, cost reductions, higher system capacity and massive device connectivity - is expected to drive efficiency in health care and other industries, as China already has the world's largest mobile market by subscriber and network size. The country had about 1.2 billion 4G subscribers at the end of Apr-19.
"With 5G, doctors can remotely check patients' vital signs in real time and pursue immediate action," said Fei Hongwen, vice-director of assistive diagnosis at the Guangdong Provincial People's Hospital.