Hospitals in crisis in Uganda as Middle Eastern countries poach medical staff
 25-Sep-17, The Guardian
The failure to stop a brain drain of almost 2,000 of its best doctors and nurses is exacerbating Uganda's healthcare crisis, reflecting a growing problem across east Africa, say healthcare workers.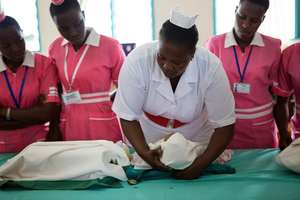 Image: Ben Langdon / Alamy
At least 1,963 medics are being recruited to work at one hospital alone in Libya, as Middle Eastern countries turn to the region for highly qualified workers to fill their own vacancies, which have increased amid political instability and migration.
Nurses, laboratory technicians and doctors in different fields are being recruited from public health facilities, private hospitals and the not-for-profit sector, with no clear government plan to mitigate the impact on the domestic health sector, medical workers say.