Samsung to focus more on wearable healthcare devices than on robots
 12-Jan-17, Business Korea
Samsung Electronics is expressing its will to develop 'wearable healthcare devices' as its new business item for the future instead of robots that LG Electronics and other rivals are paying attention to. It is said that wearable devices which can utilize the strengths of AI software more effectively are more suited for the future healthcare market due to aging society.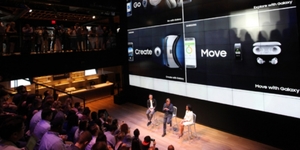 Image: Business Korea
"The roles of home robots recently introduced by home appliance companies can be realized by adding artificial intelligence (AI) to existing devices such as smartphones, TVs and IoT refrigerators," said a senior representative of Samsung Electronics's Home Electronics Division. "Rather, we believe that health care based on wearable appliances has more future growth potential."