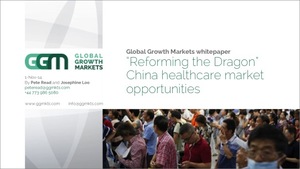 GGM whitepaper - China healthcare market opportunities
 1-Nov-14, Global Growth Markets
 Strong growth as China's health spending advances
 Urbanisation combined with improvements in rural areas is creating opportunities
 Aging population is imposing increasing demands on the healthcare system
 Healthcare reform continues, but more is still needed to improve access and affordability
 China expected to become world's second largest pharmaceuticals market in 2015
 Medical devices market to grow by almost 20% per year
 Rapid expansion expected in the mhealth market
Market opportunities
China's healthcare market breaks down into high-end and low-end segments across both urban and grassroots locations, each presenting issues as well as opportunities. The challenge for multinational companies is to target the right investments and products for the right markets within the country, delivered through effective networks. This will increasingly be achieved through innovation, as well as collaboration with local companies in the form of partnerships, JVs and acquisitions.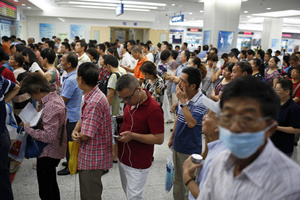 Reform in public healthcare, especially with regard to modernisation of hospital standards and processes, is expected to drive an increase in demand for medical devices, mHealth, and software and IT for medical institutions.
China's pharmaceutical market is expected to become the world's second largest in 2015. Opportunities exist through developing economies-of-scale in production of generic drugs to combat pricing controls, and a strategic focus on first-to-market or innovative drugs that will enjoy premium pricing.
New regulations in 2014 have opened up China's hospital sector more clearly to FDI and the opportunity to invest in 100% foreign owned hospitals. The seven cities and provinces in which this will be allowed are Beijing, Tianjin, Shanghai, Jiangsu, Fujian, Guangdong and Hainan.
The country lacks millions of nursing home employees to cope with the size and demands of its aging population. The Ministry of Civil Affairs plans to train 6 million more caregivers by 2020. Opportunities exist in the development of elderly care facilities as well as the training of caregivers and nursing staff.
 Request a copy of the free whitepaper (PDF)