
08-Sep-18, Vietnam Net
VinaCapital's flagship fund VOF has recently announced that it will invest USD25 mn in private hospital operator Tam Tri Medical. The transaction gives VOF a significant minority stake in the company, which operates four hospitals with approximately 500 beds and 700 employees.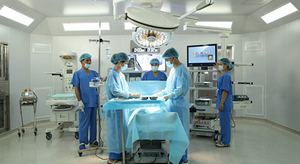 Image: Vietnam Net
VOF's investment will allow Tam Tri to upgrade its facilities, expand its current hospitals, and seek opportunities to acquire new hospitals.
South Korea's Sun Medical Center previously acquired Nha Khoa My, an international network of dental clinics.
The healthcare sector was also stirred up by news that Polish Adamed Group spent USD50 mn to acquire 70 percent of Davipharm shares, the biggest Polish investment in Vietnam so far.
Quadria Capital in 2017 also acquired a stake in French-invested FV Hospital in Vietnam. The investment is used to develop diagnostic and treatment centers for a select set of specialities.