
22-Mar-18, IMRG
You only have to glance at the numbers to understand China's dominance over the global e-commerce market. But the country has not even hit its potential, as there are an estimated 676 mn people not yet connected to the Internet, and analysts predict that turnover will increase twofold by 2021.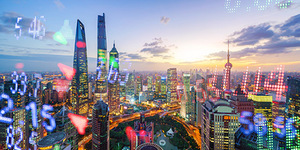 Image: IMRG
European brands and retailers are aligning themselves with the Chinese digital leaders to try and build the future of e-commerce there.
For example Auchan in 2017 launched a connected convenience shopping solution, Auchan Minute. The automated shops offer up to 500 food and non-food products. And Tencent has announced a deal with Carrefour, "to combine Carrefour's distribution expertise with Tencent's technological savvy," according to Carrefour.