
25-Sep-18, South China Morning Post
Tencent, which operates the Hong Kong version of WeChat Pay, will partner China UnionPay to let users settle the bill for purchases on the mainland in Hong Kong Dollars, from Oct-18. Vendors such as Didi Chuxing, Meituan-Dianping and railway ticketing platform 12306.cn will accept payments made via WeChat Pay HK.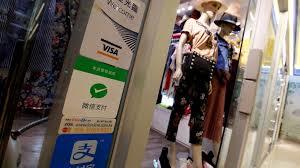 Image: Reuters
"The cross-border mobile payment will greatly increase the collaboration opportunities for both Hong Kong and mainland Chinese businesses," said Jim Lai, head of Tencents's fintech arm.
Both WeChat Pay and Alipay have raced to have their respective wallets accepted as a payment method around the world to cater to China's hundreds of millions of outbound tourists, who last year spent USD258 bn abroad.