
21-Nov-18, Eco-Business
Global clothing production doubled between 2000 and 2017 and brands such as Zara, H&M, Nike and Adidas have expanded their supply chains to keep up with demand. China is the world's largest producer, but while "Made in China" products are sold around the world, the pollution from their manufacture doesn't leave the country.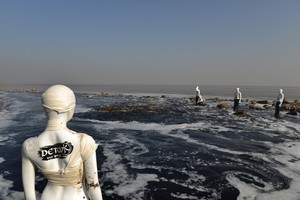 Image: Wu Di / Greenpeace
Textile manufacturing uses enormous quantities of dyes, additives and stabilisers, which then enter the environment through wastewater. 25 per cent of global chemical output is used in the textile industry, and 42 per cent of that usage is in China.
"Committed brands and companies are delivering on the rigorous management of hazardous chemicals collectively," wrote Greenpeace in Destination Zero, a recent progress report, "and they have reached a critical point where there's no going back". The first step companies are asked to take is to set up a Manufacturing Restricted Substances List.