
12-Nov-18, Asia Times
Despite dilapidated power generation and distribution infrastructure, total reliance on imported oil and international sanctions, North Korea's energy needs are being met by creative domestic solutions and a newly entrepreneurial citizenry.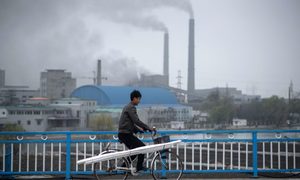 Image: AFP / Ed Jones
While energy sanctions are unlikely to drive North Korea into giving up nuclear arms, energy inducements could be a part of a solution to the long-running peninsula crisis, noted David Von Hippel, an expert on North Korea's energy sector at the Nautilus Institute.
And if North Korea ever does open up to the international community, Von Hippel believes it could provide a blank slate for some of the most advanced and environmentally friendly technologies - a bottom-up process that would be more efficient than rebuilding its creaky existing generation facilities and grid top-down.