
09-Mar-18, Campaign
A milestone of one million Alipay users in Hong Kong highlights an ongoing, all-out mobile-payments marketing scramble taking place.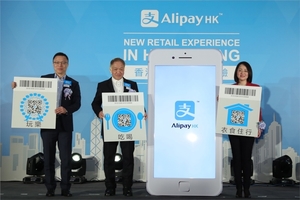 Image: Campaign
During Chinese New Year, WeChatPay and Alipay spared no effort to raise their profiles by rewarding their users. A WeChat user who spent HKD25 (USD3.19) or above at McDonald's would receive a HKD10 (USD1.28) rebate.
Users of Alipay, on the other hand, received a stamp for their spending on the mobile app or top-ups at 7-Eleven stores, with three stamps equivalent to a HKD5 (USD0.64) voucher at 7-Eleven. All new Alipay users receive a HKD50 (USD6.38) cash reward.