
05-Apr-18, Deutsche Welle
India's government-backed Unified Payments Interface (UPI) - a digital payments system that allows users to transfer money or make payments in real time using mobile apps - is rapidly causing Indians to drop their obsession with cash.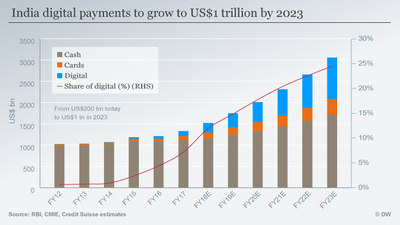 Image: DW
Transactions using UPI have surged nearly 57,000 percent since Nov-16, when Prime Minister Narendra Modi recalled 86 percent of cash in circulation and pushed for a more cashless economy.
UPI allows instant money transfer round the clock. Users are simply required to create unique UPI IDs and link them to their bank accounts.