
29-Aug-18, Nikkei Asian Review
Rapid smartphone adoption and easy-to-use e-payment apps are penetrating Indonesia's vast unbanked population on a scale that the country's traditional banking industry has never been able to achieve.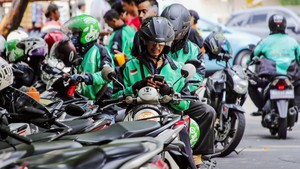 Image: Akira Kodak / Nikkei Asian Review
This is good news for Indonesians - and their country's economy. The rise of e-payments also represents a massive business opportunity - a fact not lost on some of the world's largest tech companies and VC funds, which have been pouring billions into Indonesian e-payment companies.
Investment from investment firms such as KKR, Warburg Pincus and Sequoia, and tech giants like Google, Alibaba and Tencent, has created a frenzied atmosphere in Indonesia's e-payment and fintech industries.