Indonesia healthcare market opportunities

 22-Apr-16, by Pete Read, Global Growth Markets
Indonesia's healthcare market is facing numerous challenges, from lack of personnel to the remoteness of many of its communities, to low expenditure. However, there are encouraging signs that improvements are taking place, with much more to come.
In 2014, universal healthcare was launched, aiming to make healthcare services affordable and available to everyone in Indonesia. The resulting increased demand across the country has provided an urgent incentive for badly needed improvements to healthcare services.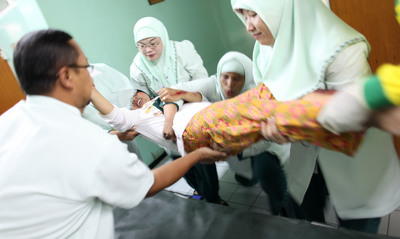 Image: Josh Estey and AusAID
Potential for higher health spending
Home to a population of 253 million, Indonesia is the 4th largest country in the world, behind China, India – each with over a billion people –and the US with 320 million.
The country's GDP in 2014 was USD889 bn, a 5% increase from 2013, and another 5% increase was recorded in 2015. Each year, 8-9 million people are entering the middle class, elevating that section of the population from 74 million in 2013 to 141 million by 2020.
In 2013, there were 25 cities and regencies in Indonesia with middle a class population in excess of 500,000. This number is expected to balloon to 54 by 2020.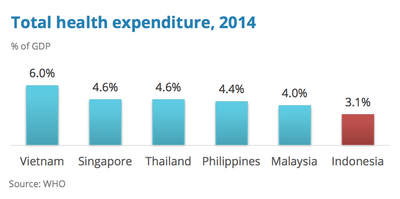 As a result of the universal healthcare insurance program introduced in 2014, healthcare spending is estimated to increase by about 200% by 2020. This means that the current overall healthcare market of USD5.3 bn will increase to at least USD15 bn over the next five years.
World's largest health insurance program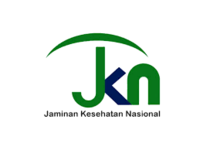 The program is called Jaminan Kesehatan Nasional in Bahasa, or JKN, which simply means "National Health Insurance". It aims to provide social health insurance to the whole population of Indonesia by 2019. The tagline underneath the logo means "For a healthier Indonesia".
Before the introduction of JKN, only 59% of the population was covered by health insurance. By 2019 all hospitals will be required to serve JKN patients. And when this goal is achieved, JKN will be the largest social health insurance program in the world.
About 86 million poor people will have their premiums covered by the government. Private health insurance will continue to play a role by providing excess or additional coverage of services not included in JKN. It is estimated that the insurance scheme will cost US$13-16 bn every year, after it is fully implemented.
Private hospital groups now investing
The number of private hospitals has been increasing at 50% a year, reaching more than 700.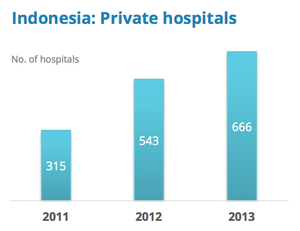 74 million people lived in households that spent more than USD200 per month in 2013, and this figure is set to soar to 141 million by 2020. This boom is the biggest in the world – apart from China and India. With higher spending power and willingness to pay higher premiums for higher quality, the middle-class offers a huge untapped market for private healthcare providers.
Private hospital groups are now investing in expanding in Indonesia:
Siloam Hospital Group for example currently operates 18 hospitals in Indonesia and aims to have 40 hospitals by the end of 2017.
Kalbe Farma, one of Indonesia's largest pharmaceutical companies, plans to invest USD1.7 mn to build 20-25 private clinics each year in Jakarta over the next 5 years.
Columbia Asia has 3 hospitals in Indonesia in the port of Semarang. It plans to open another five hospitals in Indonesia over the next 5 years.
Apollo Hospitals, based in India, is considering setting up telemedicine centres and hospitals in Indonesia.
Malaysia's IHH Healthcare CEO said that the group wants to venture into Indonesia as part of its expansion strategy in the next few years.
Pharma industry expanding at 10%
In 2014, the pharmaceutical industry reflected 7.6% growth in sales to hit US$5.3 bn, mainly driven by the launch of JKN. The pharmaceutical market is now poised to grow between 10-12%, to US$6 bn in 2015.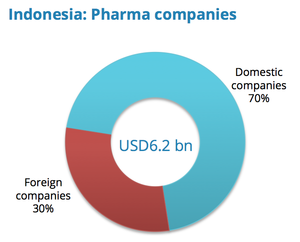 All foreign pharma companies have to produce their drugs in Indonesia or forge a partnership with a local manufacturer, otherwise they will not be granted drug approvals.
USD1b med tech market by 2018
With a big gap between service provided and the demand, and a geographically diverse country, technology could have a key role to play in addressing some of Indonesia's healthcare challenges.
The medical device market is estimated to grow from USD673 mn in 2013 to USD1.22 bn in 2018, at a Growth Rate (CAGR) of 13%.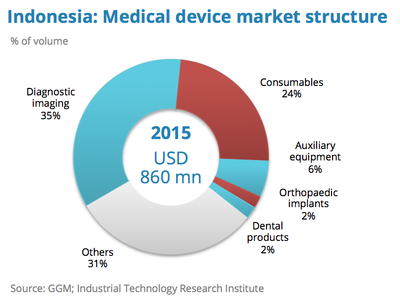 Diagnostic imaging equipment and orthopaedic implants are the fastest growing products in the market. 97% of medical devices in Indonesia are imported, due to a shortage of established manufacturers.
The dawn of mHealth
The adoption of mhealth solutions in Indonesia is still at quite an early stage. Mobile health apps are the most common form of mhealth, where users can access online information portals to get health information, find doctors and even consult a doctor.
Francis Puno, Chairman of Continua Health Alliance in Southeast Asia, says:
"Some rural areas have limited access to healthcare services... There is not yet a formality to bring the different players together... It is difficult for foreign mHealth companies... Indonesia needs to improve its infrastructure and connectivity in hospitals and satellite clinics..."
Major players investing in health tech and remote health solutions:
GE set up a connected ultrasound program in 2015.

Philips conducted a pilot project on Mobile Obstetrical Monitoring in 2014, and recently launched the full commercial service.
Market opportunities
Finance - Private insurance required to fill gaps and top up the JKN coverage

Services - Private hospital demand booming as public sector comes under strain from increased demand; training of physicians is also needed

Pharma - Ethical drugs market expected to increase at double digit rates thanks to uplift in prescriptions

Med tech - Health apps and online information and consultation services are attracting millions of users

mHealth - The need for connected health is clear, and commercial services are possible if the infrastructure is well thought out and trialled

Telehealth - Massive dispersed rural population needs to be connected to health services

---
If you would like to know more about Indonesia's healthcare market opportunities, please talk to us: info@ggmkts.com
Or sign up for our free HealthCheck24 newsletter on med tech and healthcare in emerging markets.
GGM can help with international med tech, hospital and related healthcare sectors investment planning, market research, site location and M&A/partnering - in Indonesia, Asia and other growth markets. Contact us to find out more.
Enjoyed this article? You may also like: China healthcare market opportunities