Keeping one's heartbeat on a finger in Korea
 10-Sep-17, The Korea Herald
One of the most common yet underdiagnosed diseases affecting older adults is atrial fibrillation - an irregular heart rhythm that can cause blood clots, leading to potentially fatal complications. One in four people above 40 experience its symptoms, but despite its prevalence the condition is about 50 percent undiagnosed.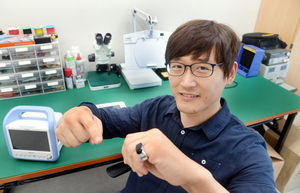 Image: Park Hyun-koo / The Korea Herald
A Korean tech startup has set out to increase the early detection of arrhythmia, with a smart ring that continuously tracks a person's pulse with high precision and stability. Sky Labs' smart ring - a waterproof device with sensors that track vein movement - aims to make heart rhythm tracking more continuous, easier and less intrusive for the wearer.