Plans to establish pharma & medical technology zone at Bengaluru
 14-Feb-17, Business Standard
The government is planning to establish an exclusive zone for pharmaceuticals and medical technology at Bengaluru to give a boost to domestic production of these products under the Make in India initiative.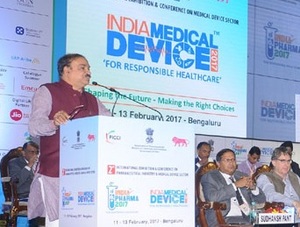 Image: Business Standard
"Bengaluru, being the hub of information technology and skilled manpower, will prove to be the ideal location to set up a pharma and Med Tech zone," said Ananth Kumar, Minister for Chemicals & Fertilizers.
Mansukh Lal Mandaviya, Minister of State for Chemicals & Fertilizers, said that the recent approval of the pharma and Med Tech zone in Andhra Pradesh has attracted over 30 investment proposals from domestic and international pharma companies which has the potential to reduce the manufacturing cost of drugs and medical devices by around 30 percent as compared to global prices.