
01-Mar-19, euronews.
Weak demand in China and growing global fallout from the Sino-US trade war took a heavier toll on factories across much of Asia in Feb-19, business surveys showed.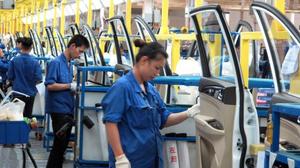 Image: Norihiko Shirouzu / Reuters
Activity in China's vast manufacturing sector contracted for the third straight month, pointing to more strains on its major trading partners and raising questions over whether Beijing needs to do more to stabilise the slowing economy.
In many cases, business conditions were the worst Asian companies have faced since 2016, with demand weakening not only in China but globally. Japan's factory gauge fell at the sharpest pace in 2-1/2 years as slumping orders prompted plants to cut production, while separate data from South Korea showed its exports plummeted.