Rise in diabetes in Asia fuels demand for tests
 07-Sep-17, Nikkei Asian Review
Japanese manufacturers of diagnostic tests for diabetes and other illnesses are ramping up operations in the rest of Asia, as they hope to catch up with global players by tapping into emerging markets.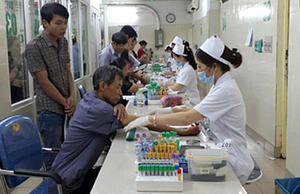 Image: Nikkei Asian Review
In Southeast Asia, CMIC Holdings is launching a diabetes diagnostics business geared toward the affluent. The company recently received regulatory approval for its diabetes tests in the Philippines and Vietnam.
Konoike Transport, meanwhile, is partnering with Tokyo-based J-VPD to launch a clinical testing business in India. Konoike will fly blood and tissue samples of patients to Japan, where partner companies will test for more than 1,000 indicators.