
25-Nov-18, Healthcare IT News
"In order to improve the country's health service to a better level, the Ministry of Health is committed to ensuring that the electronic medical record system (EMR) can be realised within three years at 145 hospitals nationwide," said Malaysian Health Minister Datuk Seri Dr Dzulkefly Ahmad.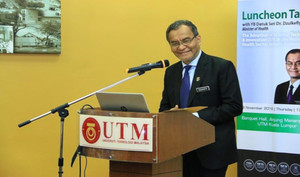 Image: Dr Dzulkefly Ahmad's Facebook Page
Dr Dzulkefly added that 20 percent of the hospitals in Malaysia already have the EMR system in place, including Selayang Hospital and Ampang Hospital in Selangor but it is still not fully operational.
"We want to follow the best examples, such as in Turkey that have end-to-end solutions, good hospital information, and efficient track and trace for medicines that they have zero counterfeit [medicines]."